Welcome to our website dedicated to the provision of Alphabetic Code Charts.
These charts have been designed to increase understanding of the complex spelling system of the English language. We suggest that the notion of Alphabetic Code Charts should be as well known, and used, as Alphabet Posters.
Whilst Alphabet Posters show the 26 upper case (capital) and 26 lower case letter shapes teaching letter knowledge, alphabetical order and handwriting, in contrast Alphabetic Code Charts illustrate the smallest sounds of speech (phonemes and combined phonemes) linked to the graphemes (letters and letter groups) which ARE CODE FOR the sounds. Thus, Alphabetic Code Charts support the teaching and learning of the many letter/s-sound correspondences of the alphabetic code for reading and spelling.
Debbie's charts have been well-received and they are used in schools, homes and universities internationally – wherever the English language is being taught for reading and writing or to support teacher-training.
This guide for student-teachers is one example of how a university in England, Manchester Metropolitan University, incorporated Debbie's Alphabetic Code Chart for teacher-training. This particular Alphabetic Code Chart also includes a description of 'The Synthetic Phonics Teaching Principles' – See Appendix 3, page 53.
From our selection of FREE downloadable charts, people can select their preferred versions, as appropriate for their needs, and use them as part of the Phonics International reading, spelling and writing programme – or use them to complement other programmes of work aimed at teaching and training in basic literacy knowledge and skills. You will find versions suitable for anyone of any age – for teachers and for learners! Learners need full and proper access to both Alphabet Posters and Alphabetic Code Charts as they each have different roles to play in becoming literate.
Are you displaying a 'giant' Alphabetic Code Chart on your classroom wall?
"Everyone, from young learners to adults, benefits from the use of Alphabetic Code Charts.
Every classroom could have a suitable Alphabetic Code Chart which can be generic or programme-specific. "

Debbie Hepplewhite MBE FRSA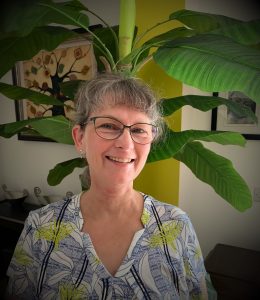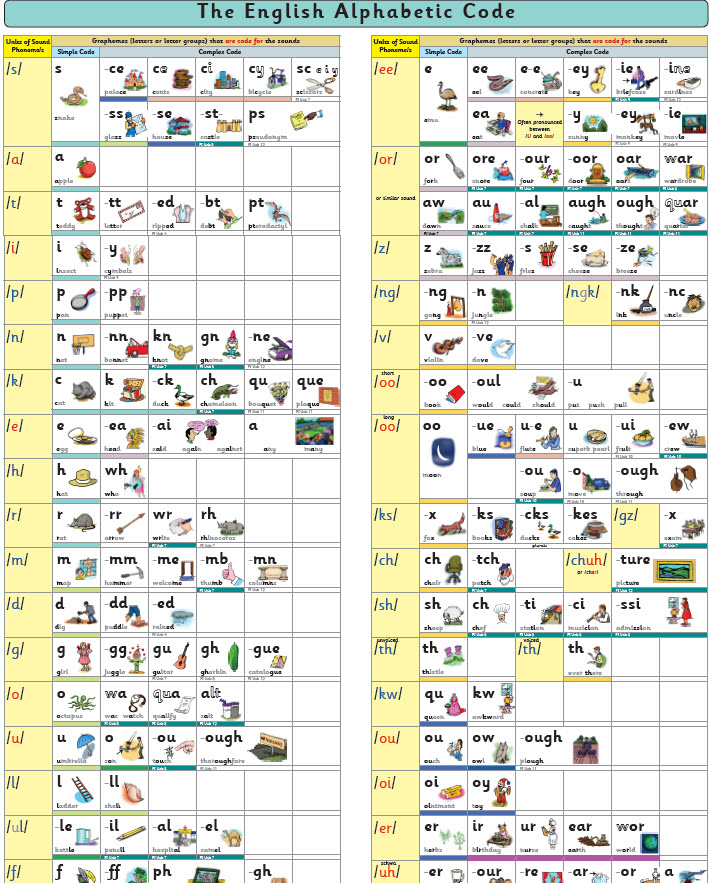 Classroom sized, plasticised Alphabetic Code Charts are available to purchase as 'pull-up' charts ('banners') or 'hang-down' charts (with 'eyelets'). Full description HERE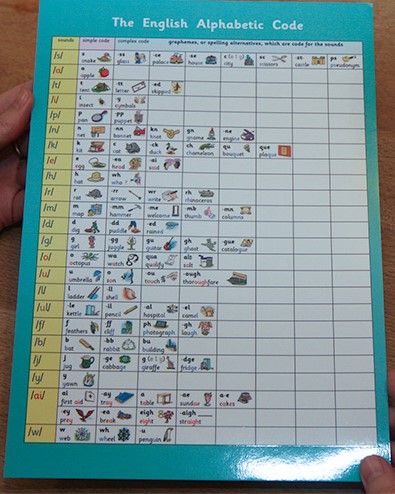 Durable (laminated card) and double-sided. The sounds are shown down the left-hand columns. The spelling alternatives, that is letters and letter groups, are shown with example words and pictures across the rows. The complexities of the English Alphabetic Code are described on the back.
Full Description HERE
Durable (laminated card) and double-sided tabletop Alphabet Chart to teach and support letter formation of capital and lower case letter shapes correctly positioned on writing lines. Full description HERE
Go to our FREE Alphabetic Code Charts page